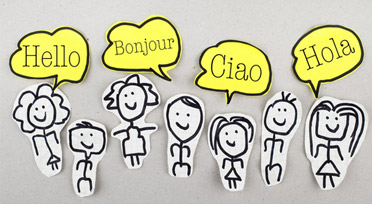 There's 41 million American consumers that may never hear your ads. Sounds like something you want to change? If you're only producing your ads in English, the 41 million native Spanish speakers (not including the 11 million bilingual speakers) across the United States won't hear them as you intend for them to be heard.
The Spanish-speaking population in the US is huge. We'll put its size in perspective for you: the United States is home to more Spanish speakers than Spain. Today, we're second in size only to Mexico, but that's set to change as the Spanish-speaking market expands to an estimated 138 million by 2050. In about thirty years–give or take–the US will be the largest Spanish-speaking nation in the world. The growth of that demographic is already creating waves in the advertising world. Advertising to the Hispanic population is a $5 billion industry, and like the demographic it serves, it's rapidly growing–4 times faster than any other sector in advertising.
Advertising in Spanish pays off. To put it simply, a large group of people will spend a large sum of money. Our millions-strong Hispanic market spends a total of $1.3 trillion each year collectively. The companies that advertise in Spanish get a bigger piece of that massive pie for one huge reason: they show that they care about that market. Hispanic consumers are far more likely to buy from companies and brands that spread their message in their native language.
Logically, advertisements in an individual's native tongue catch their attention in a sea of copy spoken in a second language that's far more difficult to comprehend. After hearing them, Spanish-speaking advertisements have been shown to increase ad recall by up to 30% among Latinos. They stand out, are easier to listen to, and stick with them longer. All in all, Spanish ads perform the job of an advertisement as it should be. It serves the obvious purpose of breaking down that pesky yet incredibly significant language barrier, but it also demonstrates a company's consideration of their community and culture. 54% of Hispanics that predominantly speak Spanish say that they are "much more loyal to companies that show appreciation of our culture by advertising in Spanish."
Here at Push Button, we know how important it is to reach those 41 million Spanish speakers and show that you hear them, and want them to hear you. Our voiceover talent roster spans not only the country, but the globe. You're sure to find a voice that fits your brand and message. Looking to start from scratch? We offer the award-winning copywriting that Push Button is known for in different languages.
There's not a lot of guaranteed predictions to be made in the advertising world, but the growth of the Hispanic market is one of them. It makes sense to run a Spanish company in Spain…why wouldn't you run Spanish ads in a country with an even larger Hispanic population? Shoot us an email to get started on reaching the fastest growing ad market around.